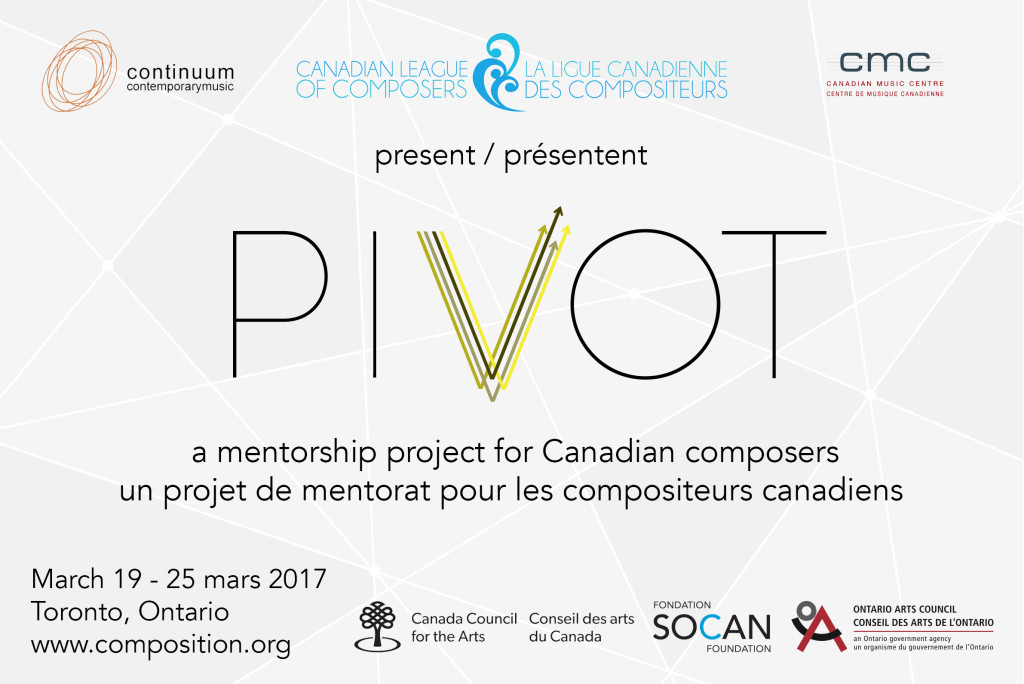 The Canadian League of Composers (CLC), in partnership with the Canadian Music Centre (CMC) and Continuum Contemporary Music, are pleased to announce the six composer-mentor pairings for PIVOT, a mentorship program for Canadian composers in 2016-17:
Rebecca Bruton with Chiyoko Szlavnics
Maxime Corbeil-Perron with Jimmie LeBlanc
Juro Kim Feliz with Linda Catlin Smith
Beavan Flanagan with Martin Arnold
Evelin Ramon with Cléo Palacio-Quintin
Bekah Simms with Martin Bédard
Each match has been individually tailored to the composer's skills and needs by a consultative selection process. The mentor will act as a reference for them over a six-month period to help with their creative process and guide them as they begin work on a new composition for the Continuum ensemble, to be premiered at a final showcase concert on March 25, 2017 at the Music Gallery in Toronto.
PIVOT will provide an unparalleled opportunity for these six composers residing across Canada to work directly with–and have their music performed by–the Continuum ensemble, one of Canada's most celebrated and innovative chamber groups. As well, participants will experience first-hand the professional development opportunities offered by the CLC in Toronto, the project's home base. The program takes place between Fall 2016 and Spring 2017.
Please consider making a donation to the PIVOT mentorship program. Your donation, which is a tax-deductible expense, will help us make this the best project it can be.
As this is a national program, some of the composers have been paired with mentors who live in a different city or province. Your donation could contribute to travel costs to allow these composers to meet with their mentors face-to-face as often as possible, allowing for the crucial in-person dynamic that we all value and require as composers learning our craft.  It will also go a long way toward helping participating composers cover some or all of their costs for travel to Toronto in March of 2017, to participate in the professional development sessions offered by the CLC and CMC, and the rehearsals and final concert presented by Continuum on March 25.
To donate online, please follow this link, and choose "PIVOT Mentorship Program" from the drop-down menu.
Donate now to help to create invaluable opportunities for these early-career Canadian composers.  Thank you! 

For all inquiries, please contact Mr Elisha Denburg, CLC General Manager, at info@composition.org, or call 1-877-964-1364.