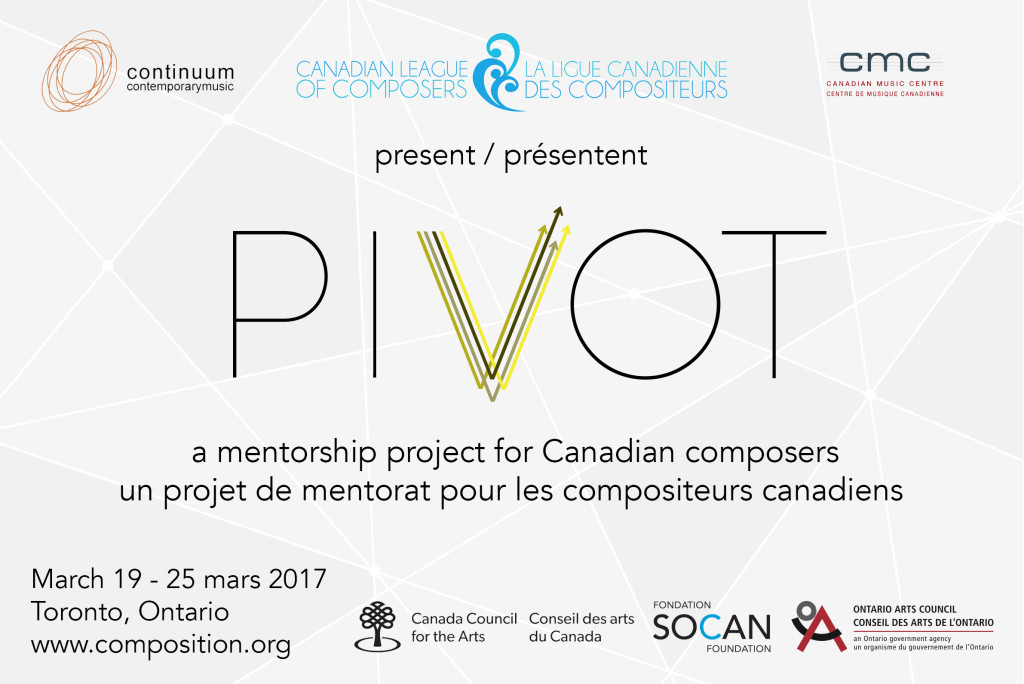 The Canadian League of Composers (CLC), in partnership with the Canadian Music Centre (CMC) and Continuum Contemporary Music, are pleased to announce the six participants of PIVOT, a mentorship program for Canadian composers in 2016-17:
Rebecca Bruton
Maxime Corbeil-Perron
Juro Kim Feliz
Beavan Flanagan
Evelin Ramon
Bekah Simms
Each participating composer will be matched with a mentor-composer, individually tailored to their skills and needs by a consultative selection process. The mentor-composer will act as a reference for them over a six-month period to help with their creative process and guide them as they begin work on a new composition for the Continuum ensemble, to be premiered at a final showcase concert on March 25, 2017 at the Music Gallery in Toronto.
PIVOT will provide an unparalleled opportunity for these six composers residing across Canada to work directly with–and have their music performed by–the Continuum ensemble, one of Canada's most celebrated and innovative chamber groups. As well, participants will experience first-hand the professional development opportunities offered by the CLC in Toronto, the project's home base. The program takes place between Fall 2016 and Spring 2017.
A national jury–Stacey Brown (QC), Anna Höstman (BC/ON), Terri Hron (QC), James O'Callaghan (BC/QC), Christopher Reiche (BC), and Ryan Scott (ON)–recently met to review 85 applications to the PIVOT program. It was a very competitive pool of applicants.  Although it was great to have so many excellent applications it made the process of deciding the final six very difficult. The proposals represented a diverse cross-section of artistic practice, aesthetic, gender, culture, career experience, and geography. Matthew Fava (Canadian Music Centre), Elisha Denburg (Canadian League of Composers), and Josh Grossman (Continuum Contemporary Music) acted as non-voting observers of the meeting.
Previous iterations of PIVOT have provided career opportunities, mentorship, and professional development to the following composers:
2013 (Toronto)
Jason Doell
Fiona Ryan
Saman Shahi
2012 (Vancouver)
Kathleen Allan
Daniel Brandes
Iman Habibi
2011 (Vancouver)
Elizabeth Knudson
James O'Callaghan
Christopher Reiche
For all inquiries, please contact Mr Elisha Denburg, CLC General Manager, at info@composition.org, or call 1-877-964-1364.