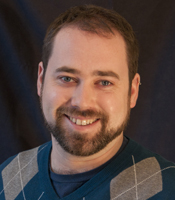 CHRISTOPHER REICHE BOUCHER is a performer, composer, and instructor living in Victoria, British Columbia. His compositions range from pieces for solo performer to works for larger ensembles and have been performed by Quatuor Bozzini, Emily Carr String Quartet, Thin Edge New Music Collective, Negative Zed Ensemble, Pembroke Symphony Orchestra, 7090, and orkest de ereprijs. His string quartet, The length of this piece is not arbitrary – Painting a Portrait of Glass, was recorded by Quatuor Bozzini and released on their CD, À chacun sa miniature.
In Victoria, he performs frequently at A Place to Listen on piano and other objects. He can also be heard performing on Lodge no1 recorded by the Glass Tables. In 2013 he gave a solo performance of Erik Satie's Vexations, completing all 840 repetitions in just under 24 hours.
When not composing or performing he is the New Music Coordinator for Open Space Arts Society, an artist run centre that prioritizes the presentation of all disciplines of contemporary art including, visual arts, music, performance art, and literary arts.
Photo credit: Dallas Duobaitis